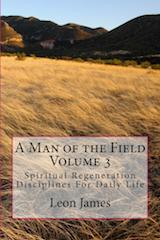 Buy Paperback: $28.50
Amazon.
Kindle.

About the author:
Dr. Leon James is Professor of Psychology at the University of Hawaii. His Web site and information on his professional background is located at
www.theisticpsychology.org
A Man of the Field
Volume 3: Spiritual Regeneration Disciplines For Daily Life
by Leon James
Volume 3 of A Man of the Field discusses the details of regeneration based on the Writings of Swedenborg (1688-1772). We are born with a natural mind that develops all its concepts and principles from a materialistic environment, culture, and education. Guiding these naturalistic ideas are unregenerate natural loves and interests that cause all our daily willing, thinking, and enjoying to be motivated by self-interest. If we do not become spiritual as well as natural we are unable to break the inherited traits that favor self over others. Swedenborg's eyewitness accounts of the afterlife prove that the unregenerate character is bound to the hells in the mind and devolves into eternal insanity and misery. Therefore regeneration is critical if we desire to be bound instead to the heavens in our mind and to enjoy its eternal felicities. Regeneration is the spiritual discipline of monitoring our affections, intentions, thoughts, and enjoyments in our daily tasks and roles, and holding up each to the light of the spiritual principles given in the Writings by which we judge whether these favor self over others, binding us deeper to hell, or whether they favor others as well as self, thus binding us to heaven.
ISBN/EAN13:

1450590888 / 9781450590884

Page Count:

419

Trim Size:

6" x 9"

Color:

Black and White

Related Categories:

Religion / Christian Life / General