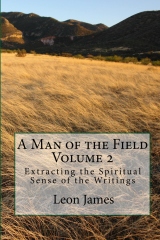 Buy Paperback: $29.50
Amazon
Kindle

About the author:
Dr. Leon James is Professor of Psychology at the University of Hawaii. His Web site and information on his professional background is located at
www.theisticpsychology.org
A Man of the Field
Volume 2: Enlightenment, Extracting the Spiritual Sense of the Writings
by Leon James
This book in three volumes is about regeneration, which is the conscious discipline of character change based on the scientific principles revealed in the Writings of Swedenborg. When we read the Writings we begin to understand regeneration in a medical, psychological, and educational perspective that is unique and beneficial. Our prior understanding is based on the fundamental principle of nonduality, which is that all things exist in the materialistic continuum of the universe or reality. When we begin to see things from the perspective of the Writings, we can replace every concept of nonduality into a duality. Every duality is by reference to the natural and the spiritual as two separate and distinct worlds, tied together by rational laws of correspondence that have now been revealed by God through the mind of Swedenborg. We can then begin our regeneration. This requires us to cooperate with the Lord by shunning our daily mental evils as sins because sins prevent the preparation of our mind for eternal heavenly life.
Volume 2 is an exposition of the systematic techniques of correspondences that are available to us for extracting the spiritual-celestial meaning from the literal rational sentences of the Writings. These techniques are those demonstrated in the Writings that Swedenborg applied to the Word of the Old and New Testaments, and are now applied to the Word of the Writings.
ISBN/EAN13:

1450590853 / 9781450590853

Page Count:

444

Trim Size:

6" x 9"

Color:

Black and White

Related Categories:

Religion / Christian Life / General