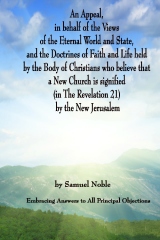 Buy Paperback: $25.00
Amazon
An Appeal
in behalf of the Views of
the Eternal World and State,
and the Doctrines of Faith and Life
held by the Body of Christians Who
Believe that a New Church is Signified
(in The Revelation 21)
by The New Jerusalem
Embracing Answers to all Principal Objections
By Samuel Noble
Emanuel Swedenborg (1688-1772) wrote extensively how the New Jerusalem indicated in The Revelation, Chapter 21, should be regarded as a New Church, not a replacement Earth. This church, moreover, has already begun, following reorganization of the spiritual world in the mid 1700s. This spiritual rearrangement is responsible for the new freedoms of thought and politics manifest since that time. Most importantly, Swedenborg's writings have made available many new rational insights into the nature of spirituality and religion.
Samuel Noble explains and defends these new doctrines concerning the Second Coming of the Lord, the resurrection, and the last judgement, and relates them the principles of faith and life held by those that now call themselves the New Church. This Church has a new understanding of the Trinity within the Person Of The Lord Jesus Christ, as well as of his Atonement, Sacrifice, and Mediation. He shows how this new framework yields a New Church Doctrine of Life, a Doctrine of Genuine Holiness.
This is a new typesetting of the 13th edition of his "Appeal", the first edition of which appeared in 1830.
ISBN/EAN13:

1450510132 / 9781450510134

Page Count:

496

Trim Size:

6" x 9"

Color:

Black and White

Related Categories:

Religion / Christianity / General