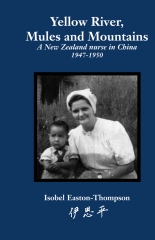 Amazon Canada,
Amazon UK,
Amazon Germany,
Amazon Japan.
Chinese Translation
at Amazon China
Yellow River, Mules and Mountains
A New Zealand nurse in China 1947-1950
by Isobel Easton-Thompson
As World War II was drawing to a close, there was broad support for a coordinated New Zealand approach to help deal with the widespread devastation and suffering. With government assistance some 30 groups joined together to form the country's official relief body, CORSO (Council of Organisations for Relief Service Overseas).
China was a major focus of concern. Mme Sun Yat-sen (Soong Ching Ling) specially appealed to CORSO for qualified staff to work in the International Peace Hospitals, warning that conditions were primitive but the need was urgent. Isobel Easton-Thompson responded, and soon found herself in the midst of the civil war. After time with the Friends Service Unit in Henan, followed by more than a year at Changzhi in Shanxi Province, she moved to Shanghai to work alongside Mme Sun and her China Welfare Fund medical team to establish a maternity clinic and child welfare centre.
Using mainly her diaries, letters and reports, Isobel has written a unique personal account of her experiences at a critical time in China's history: 1947-1950.
ISBN/EAN13:

1452879052 / 9781452879055

Page Count:

224

Binding Type:

US Trade Paper

Trim Size:

5.5" x 8.5"

Language:

English

Related Categories:

History / Asia / China